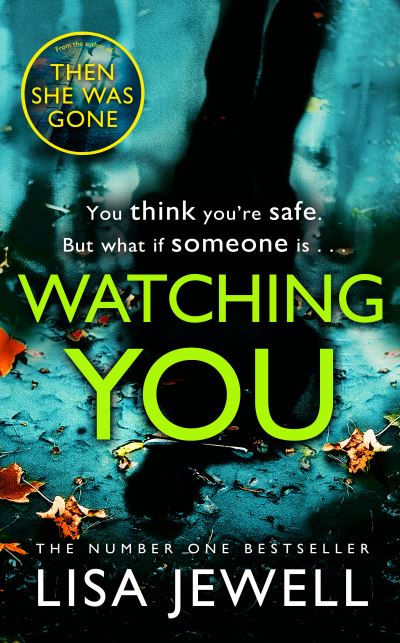 Watching You: Brilliant Psychological Crime From the Author of THEN SHE WAS GONE
£8.99
Everyone in the leafy suburb of Melville loves Tom Fitzwilliam. The charismatic head teacher has saved the local school from ruin and brought the community together as a result. His wife adores him, his students moon over him – and his next-door neighbour Joey Mullen is obsessed by him. And she believes he feels the same about her – he's been giving her signs recently that she simply can't ignore. Joey thinks her crush on Tom Fitzwilliam is a secret. But she doesn't realise that Tom's teenage son, Freddie, is also watching her. And then there's Jenna who is only just holding her own life together because her mother is having delusions- she is convinced that she is being followed, and that her stalker is none other than Tom Fitzwilliam.
YOU'RE NOT THE ONLY ONE WATCHING

'Page one intrigued me. Page three hooked me. By page five, I was consumed. This compulsive, propulsive novel is both a seize-you-by-the-throat thriller and a genuinely moving family drama. Stellar.' – A.J. Finn, author of The Woman in the Window
_______________
You're back home after four years working abroad, new husband in tow.
You're keen to find a place of your own. But for now you're crashing in your big brother's spare room.
That's when you meet the man next door.
He's the head teacher at the local school. Twice your age. Extraordinarily attractive. You find yourself watching him.
All the time.
But you never dreamed that your innocent crush might become a deadly obsession.
Or that someone is watching you.
_______________
Family secrets, illicit passion and an unexplained murder? It can only be the gripping new novel from Lisa Jewell, #1 bestselling author of Then She Was Gone.
_______________
'I was totally gripped by this excellent psychological thriller. Set in Bristol, it opens with a dead body, then moves into the head of Joey, a newly-married 27-year-old who gets a sudden crush on one of her new neighbours, which quickly becomes obsessive. Hugely enjoyable.' – Marian Keyes, author of The Break
'If you only pick one summer read this year, make it Watching You. I inhaled it in one sitting. A gripping plot, characters you love but can't trust, and a thumping emotional heart, Lisa Jewell has done it again.' – Sarah Pinborough, author of Behind Her Eyes and 13 Minutes
'If you loved The Woman in The Window and The Girl on the Train then this is for you!' – the Hotlist, U Magazine
'Then She Was Gone was my favourite thriller last year and this is even better. Brilliantly plotted and impossible to put down, it kept me guessing until the very end.' – Alice Feeney, author of Sometimes I Lie
'She's done it again! Lisa Jewell has penned the page-turner of the summer. Emotionally-engrossing and utterly compelling, with a mystery that keeps you gripped until the last heart-wrenching page.' – Tammy Cohen, author of They All Fall Down
'Jewell writes wonderfully engaging characters who weave plausibly tangled webs and the whodunit was largely incidental until the closing pages. She masterfully draws all her threads together, throwing in some cunning twists for good measure?The countdown is on for the next Lisa Jewell novel.' – Daily Express
'A finely drawn domestic thriller.' – India Knight
Pre-order