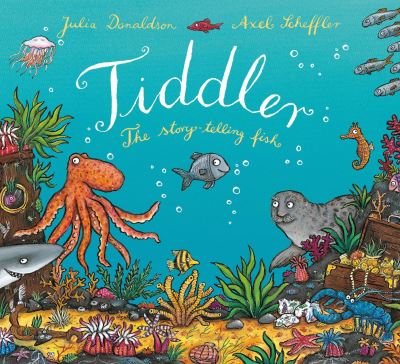 Tiddler
£12.99
Every day, Tiddler is late for school, and every day he has another tall tale for his teacher. But did he really ride a seahorse? Did he really meet a mermaid? And who will believe him when he really does get captured in a net? TIDDLER is a classic of the future, with a little hero that all children will identify with.
 
The smallest fish can tell the tallest tales …
"Sorry I'm late, Miss. I set off really early but on the way to school I was captured by a squid. 
I wriggled and I struggled till a turtle came and rescued me."
"Oh, no, he didn't."
"OH, YES, HE DID."
Tiddler is a little fish with a BIG imagination!
What ever will he come up with next?
A beautiful hardback edition makes the perfect special gift for a lifetime
From the ceators of The Gruffalo, Stick Man and 

ZOG

, which have all been made into animated films shown on BBC1
Superworm animation will debut on BBC1 December 2021.

In stock