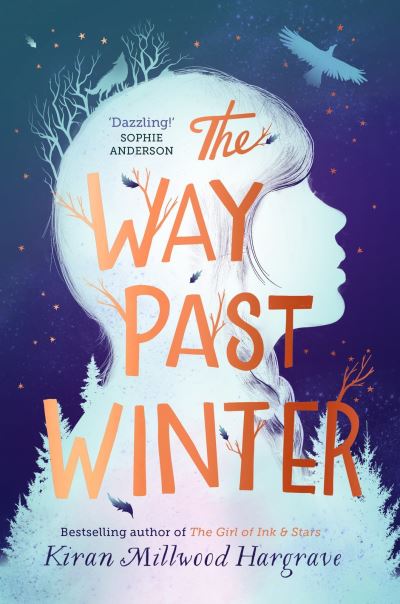 The Way Past Winter
£6.99
When Mila's brother disappears, she believes he's been taken by the Bear, a hooded stranger of legend who sought shelter at their home. Mila and her sisters follow his trail into the frozen north, determined to find a way past winter and bring their brother home.
 
From the bestselling author of THE GIRL OF INK & STARS comes a paperback edition of this gorgeous wintry folk tale for young and old alike – an exciting adventure to the frozen north, perfect for fans of Philip Pullman.
WINNER OF THE BLACKWELL'S CHILDREN'S BOOK OF THE YEAR
'This gorgeous story of bravery, sisterhood, goodbyes and beginnings is a must for everyone.' JESSIE BURTON
'The Way Past Winter is a masterclass in exquisite storytelling.' CATHERINE DOYLE
'Gorgeous, heartfelt and incredibly exciting. Her best yet, and that's saying something.' ROBIN STEVENS
Mila and her sisters live with their brother Oskar in a small forest cabin in the snow. One night, a fur-clad stranger arrives seeking shelter for himself and his men.
But by the next morning, they've gone – taking Oskar with them.
Fearful for his safety, Mila and her sisters set out to bring Oskar back – even it means going north, crossing frozen wild-lands to find a way past an eternal winter.
The third children's novel by Times number one bestselling author Kiran Millwood Hargrave, winner of the Waterstones Children's Book Prize and the British Book Awards Children's Book of the Year
From the author of The Girl of Ink & Stars, The Island at the End of Everything, Julia and the Shark and The Mercies – chosen for the Richard & Judy Book Club
The Way Past Winter combines high adventure with beautiful writing and a wintry folk-tale feel – a gorgeous literary novel for all year round
MORE PRAISE FOR THE WAY PAST WINTER:
'Exquisitely woven and beautifully atmospheric.' ABI ELPHINSTONE
'Dazzling! A heart-sledging, goosebump-tingling adventure with enough warmth to melt an endless winter.' SOPHIE ANDERSON
'Kiran Millwood Hargrave has written another classic in the making.' SAMANTHA SHANNON
'Such a delicately crafted, timely fairy tale. The words just sing, as if every sentence is poetry.' CERRIE BURNELL
'A white-knuckle ride of ice and snow that will also melt even the coldest heart.' PIERS TORDAY
In stock