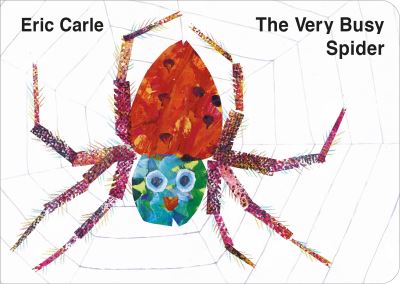 The Very Busy Spider
£6.99
Eric Carle is an acclaimed author/illustrator of books for very young children. This book is aimed at age 2 , and is particularly well-suited to children with visual disabilities because the spider's web is raised from the page.
A beautiful and classic picture book from Eric Carle, the creator of The Very Hungry Caterpillar.
In this multi-sensory book, children can feel the pictures as well as see them, while they hear or read the easy rhythmic text. Early one morning a little spider begins to spin her web on a fencepost. Alongside the visual excitement of Eric Carle's vibrant collages of familiar animals is the tactile experience of feeling the spider's web as it grows from a simple line into a complex and beautiful creation – a perfect story for reading aloud and sharing.
Eric Carle is an internationally bestselling and award-winning author and illustrator of books for very young children. Eric lives in Massachusetts with his wife, Barbara. The Carles opened The Eric Carle Museum of Picture Book Art in Massachusetts in 2002.
Don't miss all the other Very Hungry Caterpillar and Eric Carle books:
The Very Hungry Caterpillar; Eric Carle's Very Special Baby Book; Polar Bear, Polar Bear, What do You Hear?; The Very busy Spider; The Very Quiet Cricket; The Artist Who Painted a Blue Horse; 1, 2, 3 to the Zoo; Baby Bear, Baby Bear, What do you See?; The Very Hungry Caterpillar Pop-Up Book; Polar Bear, Polar Bear, What Do You Hear?; The Very Hungry Caterpillar's Buggy Book; Brown Bear, Brown Bear, What Do You See?; The Bad-Tempered Ladbybird; The Very Hungry Caterpillar: Little Learning Library; The Very Hungry Caterpillar: Touch and Feel Playbook; My Very First Book of Words; The Very Hungry Caterpillar Book and Toy; Little Cloud; Today is Monday; My Very First Book of Shapes; The Very Hungry Caterpillar's Sound Book; The Very Hungry Caterpillar; From Head to Toe; The Very Hungry Caterpillar Big Board Book; Draw Me a Star; Mister Seahorse; Do You want to be My Friend?; The Tiny Seed; The Mixed-up Chameleon; The Very Hungry Caterpillar: Book and CD; Baby Bear, Baby Bear, What do you See?; The Very Hungry Caterpillar Board Book and Block Set; Rooster's Off to See the World; Count with the Very Hungry Caterpillar: Sticker Book; My Very First Book of Colours; The Very Hungry Caterpillar: Finger Puppet Book; My Own Very Busy Spider Colouring Book; Slowly, Slowly, Slowly, Said the Sloth; The Very Hungry Caterpillar and Friends: My Very First Annual
In stock