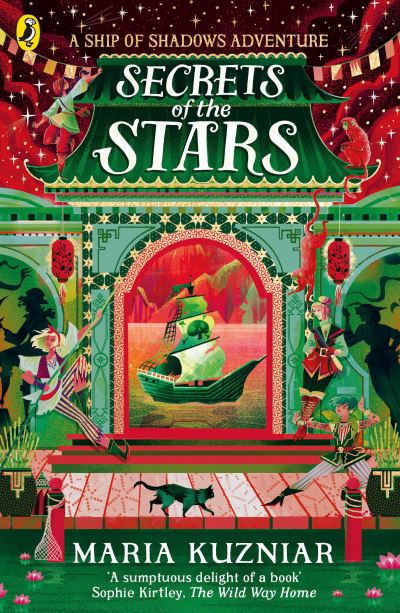 The Ship of Shadows
£7.99
Aleja whiles away her days in her family's dusty tavern in Seville, dreaming of distant lands and believing in the kind of magic that she's only ever read about in books. After all, she's always being told that girls can't be explorers. But her life is changed forever when adventure comes for her in the form of a fabled vessel called the Ship of Shadows. Crewed by a band of ruthless women, with cabin walls dripping with secrets, the ship has sailed right out of a legend. And it wants Aleja. Once on board its shadowy deck, she begins to realize that the sea holds more secrets than she ever could have imagined.
PREPARE FOR PUZZLES, PERIL, AND PLENTY OF CAKE IN THE SECOND THRILLING ADVENTURE FOR ALEJA AND THE CREW OF THE LEGENDARY SHIP OF SHADOWS
Aleja and her fellow pirates are eager to embark on a new adventure to find the second piece of the missing magical map. But they soon find themselves panicking, bewildered by a series of confusing clues. And time is running out – fast.
When she starts experiencing strange visions, Aleja realizes that someone is trying to tell her something. But can this new knowledge be trusted? And what will it cost her to find out?
With the crew's loyalties tested and more secrets to unlock than ever, Aleja must find a way to beat the clock and prove herself truly worthy of her place on the ship's crew . . .
Praise for The Ship of Shadows:
"A sumptuous delight of a book" – Sophie Kirtley, author of The Wild Way Home
"A feast for the imagination . . . an enthralling adventure." – Abi Elphinstone, author of Sky Song

"This swashbuckling tale has it all . . . I loved it." – Alex Bell, author of The Polar Bear Explorers' Club

READERS CAN'T WAIT FOR SECRETS OF THE STARS:
"With a strong protagonist and a likeable crew of characters, I couldn't stay away from the story for long, and now I CRAVE a follow-up." Gavin Hetherington, waterstones.com
"Thrilling, exciting and intriguing and I can't wait for the next instalment!" Rhiannon, waterstones.com
"What a fantastic spellbinding book . . . A truly fascinating tale and we cannot wait for the second book to be released!" Eva Sneep, amazon.co.uk
"Ship of Shadows was a fantastic book . . . I just loved everything that happened and it ended in such a way where you need the sequel asap." Emma Thompson, waterstones.com
"The real treasure in this gem of a book lies in the crew . . . I can't wait to join the crew again for the next instalment of this thrilling tale." Stephanie, amazon.co.uk
"I highly recommend diving into this novel. It's highly likely that you won't be able to wait for the next instalment." Tracy Curran, waterstones.com