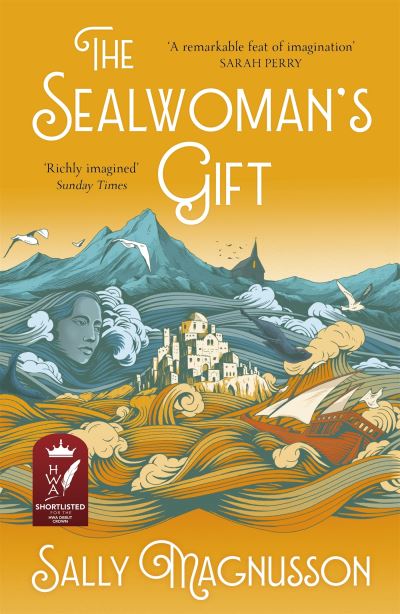 The Sealwoman's Gift
£13.99
In 1627 Barbary pirates raided the coast of Iceland and abducted some 400 of its people, including 250 from a tiny island off the mainland. Among the captives sold into slavery in Algiers were the island pastor, his wife and their three children. Although the raid itself is well documented, little is known about what happened to the women and children afterwards. It was a time when women everywhere were largely silent. In this reimagining, Sally Magnusson gives a voice to Asta, the pastor's wife.
'REMARKABLE' Sarah Perry | 'EXTRAORDINARILY IMMERSIVE' Guardian | 'EPIC' Zoe Ball Book Club | 'A REALLY, REALLY GOOD READ' BBC R2 Book Club' | 'LYRICAL' Stylist | 'POETIC' Daily Mail

1627. In a notorious historical event, pirates raided the coast of Iceland and abducted 400 people into slavery in Algiers. Among them a pastor, his wife, and their children.

In her acclaimed debut novel Sally Magnusson imagines what history does not record: the experience of Asta, the pastor's wife, as she faces her losses with the one thing left to her – the stories from home – and forges an ambiguous bond with the man who bought her. Uplifting, moving, and sharply witty, The Sealwoman's Gift speaks across centuries and oceans about loss, love, resilience and redemption.
SHORTLISTED FOR THE HWA DEBUT CROWN | THE BEST FIRST NOVEL AWARD | THE MCKITTERICK PRIZE | THE PAUL TORDAY MEMORIAL PRIZE | THE WAVERTON GOOD READ AWARD | A ZOE BALL ITV BOOK CLUB PICK
'Sally Magnusson has taken an amazing true event and created a brilliant first novel. It's an epic journey in every sense: although it's historical, it's incredibly relevant to our world today. We had to pick it' Zoe Ball Book Club
'Richly imagined and energetically told' Sunday Times
'The best sort of historical novel' Scotsman
'Compelling ' Good Housekeeping
'An accomplished and intelligent novel' Yrsa Sigurðardóttir, author of Why Did You Lie?
'Vivid and compelling' Adam Nichols, co-translator of The Travels of Reverend Ólafur Egilsson
In stock