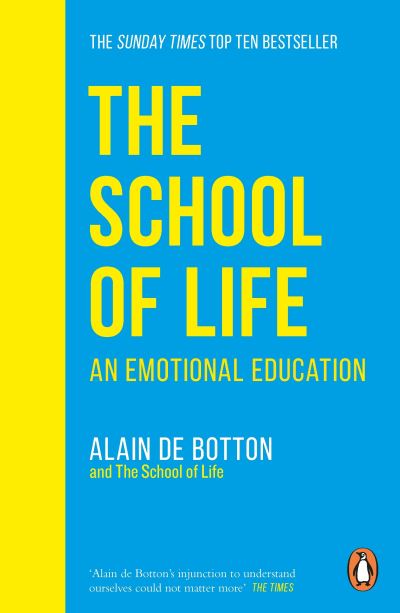 The School of Life
£12.99
Emotional intelligence affects every aspect of the way we live, from romantic to professional relationships, from our inner resilience to our social success. It is arguably the single most important skill for surviving the 21st century. But what does it really mean? One decade ago, Alain de Botton founded The School of Life, an institute dedicated to understanding and improving our emotional intelligence. Now he presents the gathered wisdom of those ten years: a wide-ranging and innovative compendium of emotional intelligence.
THE SUNDAY TIMES BESTSELLER
Give the gift of inspiration: an essential guide to living wisely and well, no matter what challenges the world throws at you – from Alain de Botton, the bestselling author of The Consolations of Philosophy, The Art of Travel and The Course of Love

This is a book about everything you were never taught at school. It's about how to understand your emotions, find and sustain love, succeed in your career, fail well and overcome shame and guilt. It's also about letting go of the myth of a perfect life in order to achieve genuine emotional maturity. Written in a hugely accessible, warm and humane style, The School of Life is the ultimate guide to the emotionally fulfilled lives we all long for – and deserve.
This book brings together ten years of essential and transformative research on emotional intelligence, with practical topics including:
– how to understand yourself
– how to master the dilemmas of relationships
– how to become more effective at work
– how to endure failure
– how to grow more serene and resilient
Praise for Alain de Botton:
'What he has managed to do is remarkable: to help us think better so that we may live better lives' Irish Times
'A serious and optimistic set of practical ideas that could improve and alter the way we live' Jeanette Winterson, The Times
'Alain de Botton likes to take big, complex subjects and write about them with thoughtful and deceptive innocence' Observer
Pre-order