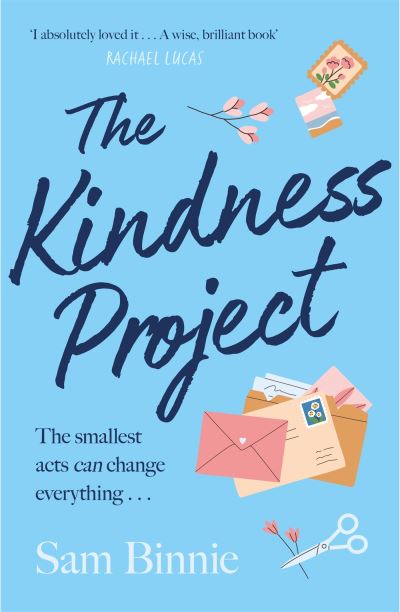 The Kindness Project
£8.99
When Bea Adlington unexpectedly dies, it falls to her daughter Alice to sort out her affairs. And so Alice finds herself in her mother's ramshackle cottage in the heart of a tiny Cornish village with a plan to clear out and sell up as soon as possible – but it turns out that her mother had other ideas. Unlike Alice, who has always preferred books to people, Bea was the village's unofficial agony aunt – she knew everyone, and helped everyone – and she has left Alice a series of letters she calls 'The Kindness Project', each one an unfinished task to complete around the village on her behalf. Though it goes against her nature, Alice sees it as her duty to complete the project and so she tackles these tasks, one by one: a widow who has shut herself off from the world, a feud between lifelong friends, a frustrated young mum, it falls to Alice to help them out.
Step 1. Help the baker's ex-wife

Step 2. Find the true calling of the village shop owner

Step 3. Call a truce on a decades-old feud

Step 4. Forgive me . . . ?
***** 'I wish I could buy a ticket and visit Polperran . . . A wonderfully sweet and authentic reminder of what we should treasure in life' Meggy, Chocolate'n'Waffles
***** 'Lived up to all my expectations and more. I could not stop reading . . . Lovely, touching, compelling' Sophie, Book Drunk Sophie
***** 'It's only right that you do yourselves a favour and treat yourself to this book . . . Touching and heartwarming' Karen, Books and Me
***** 'A novel that just felt like a literary warm hug. The world needs more kindness especially just now, and this is the perfect book' Netgalley reviewer
***** 'Reminded me of Rosamund Pilcher's novels . . . I can't recommend it enough' Netgalley reviewer
***** 'At the top of my book buying gift list for friends & family . . . Loved it!' Amazon reviewer
The locals of the Cornish village of Polperran are grieving the sudden loss of Bea Kimbrel, a cornerstone of their small community.
Now her reclusive, estranged daughter Alice has turned up, keen to tie up Bea's affairs and move on.
But Alice receives a strange bequest from Bea – a collection of unfinished tasks to help out those in Polperran most in need.

As each little act brings her closer to understanding her mother, it also begins to offer Alice the courage to open her clamped-shut heart. Perhaps Bea's project will finally unlock the powerful secrets both women have been keeping . . .
THE KINDNESS PROJECT will draw you deep into the lives of two compelling women who should never have missed their chance to say goodbye. It will break your heart – and piece it back together again . . .