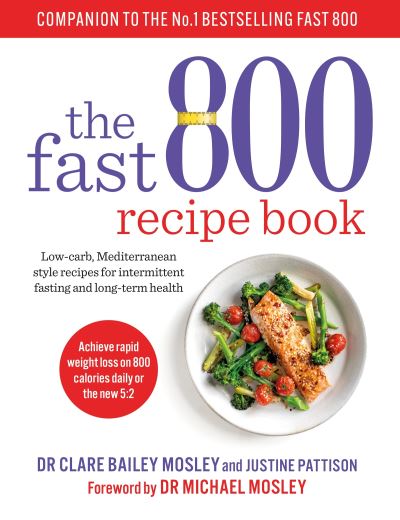 The Fast 800 Recipe Book
£12.99
In 'The Fast 800' Dr Michael Mosley brought together all the latest science on intermittent fasting to provide an exciting new programme built around a more manageable 800-calorie fast day. In this companion cookbook, Dr Clare Bailey, and wife of Michael Mosley, has teamed up with cookery writer Justine Pattison to create a collection of delicious, low calorie recipes that are all expertly balanced and easy to make.
**AS SEEN ON CHANNEL 4**
Following Dr Michael Mosley's No.1 bestselling Fast 800, this fabulous companion cookbook offers a collection of delicious, nutritious recipes to help you incorporate the new 800-calorie programme into your daily life.
Dr Clare Bailey, GP, and acclaimed food writer Justine Pattison have created meals which are tasty and easy to make, from breakfasts and brunches, soups and shakes to more substantial suppers and even occasional indulgent treats. All the recipes are based on the low-carb Mediterranean style of eating now proven to revolutionise your health.
Whether you are embarking on an intensive weight-loss programme to prevent or reverse Type 2 diabetes, or simply want to bring down your blood pressure and cholesterol and improve your mood and general health, The Fast 800 Recipe Book will inspire you to change the way you eat for ever.
Pre-order