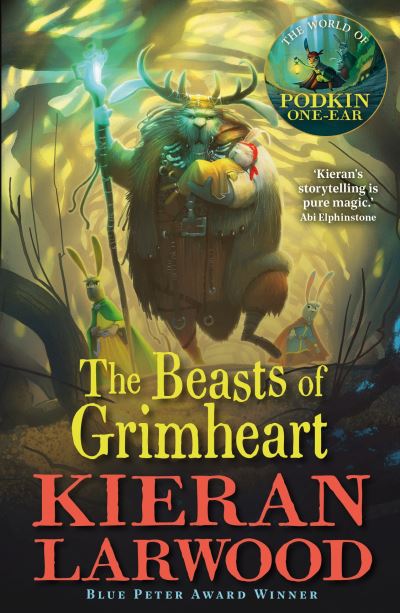 The Beasts of Grimheart
£7.99
The Gorm have started to attack the forest, trying to flush out the Darkhollow rabbits. Podkin and the others leave for Sparrowfast warren, on the other side of the forest, to ask his uncle for help and for the use of his magic bow (one of the 12 Gifts). As they make their way through the forest, Vetch turns traitor and tries to seize the Gifts Podkin and Paz own for his masters, the Gorm. The young rabbits flee into the forest depths, where they discover a lost tribe of rabbits and a another of the sacred Gifts – a crown which lets the wearer speak to animals. With their new allies, Podkin, Paz and Pook emerge, meeting up with the others at Silver Rock warren. His uncle and the Sparrowfast rabbits are already there, as the Gorm have marched round the forest edge and taken their warren.
From the winner of the Blue Peter Best Story Book Award, the third instalment of Podkin's epic battle against the Gorm.

The bard looks up at the three figures. They have black hooded cloaks and long robes. From the holes in their masks, three pairs of eyes watch him: cold, calm, emotionless.'Yes,' says the bard. 'They're bonedancers. You don't need to sound quite so excited, though. They have come to kill me.'
And so it is that the bard and and his young apprentice Rue are taken to Spinestone, the temple warren of the bonedancers. It is here that the bard is ordered to retell the tale that has got him in so much trouble . . . and so to the next instalment in the astonishing tale of Podkin One-Ear . . .
Podkin, Paz and Pook once again find their home under threat, but this time they are ready to fight! Podkin and the others leave for Sparrowfast to ask their uncle for the use of his magic bow. It's the one weapon that could save them all. But as they flee into the forest depths, it seems they have been betrayed . . .
'It's jolly good fun . . . expect sequels to breed like . . . well, rabbits.' SFX on The Legend of Podkin One-Ear
'Kieran Larwood's talent and his passion for his wonderful characters leap off every page.' David Long, author of Survivors
'One of the best books I have ever read.' Cally Evans, age 10, Lovereading4kids
Pre-order