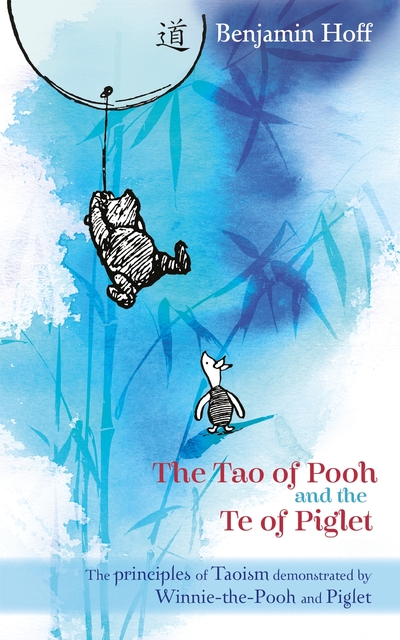 Tao Of Pooh & Te Of Piglet Anniversary
£10.99
This edition of Benjamin Hoff's philosophical studies of Winnie-the-Pooh and his friend Piglet demonstrates that the ancient wisdom of the Tao courses its way through these delightful children's books in a most mysterious way.
'It's hard to be brave,' said Piglet, sniffing slightly, 'when you're only a Very Small Animal.'
Winnie-the-Pooh is 'The Bear for all Ages', and now he's more fun than ever before. Join in The Tao of Pooh and the Te of Piglet! Pooh's Way of doing things seems strangely close to the ancient principle of Taoist philosophy, while Piglet exhibits the very important principle in Taoism of the Te, meaning Virtue of the Small. The author's explanations of Taoism and Te through Pooh and Piglet show that this is not an ancient and remote philosophy but something that you can use, here and now.
An utterly unique book which makes complex concepts accessible with a little help from Pooh and his friends from the Hundred Acre Wood. Pooh may be a Bear of Very Little Brain but there are lessons to be learned from his approach to life. Beautifully illustrated by E H Shepard.
Look out for:
Winnie-the-Pooh's Little Book of Wisdom
Winnie Ille PU (A Latin translation of Winnie-the-Pooh)
The nation's favourite teddy bear has been delighting generations of children for 90 years.
Milne's classic children's stories – featuring Tigger, Piglet, Eeyore, Christopher Robin and, of course, Pooh himself – are both heart-warming and funny, teaching lessons of friendship and reflecting the power of a child's imagination like no other story before or since.
Pooh ranks alongside other beloved characters such as Paddington Bear, and Peter Rabbit as an essential part of our literary heritage. Whether you're 5 or 55, Pooh is the bear for all ages.
In stock