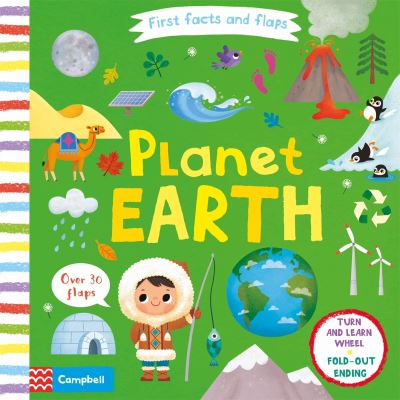 Planet Earth
£9.99
A fact-filled introduction to Planet Earth for preschoolers, with over thirty flaps, a turn-and-learn wheel and foldout ending -just in time for the 50th anniversary of Earth Day.
ISBN:

9781529025231
Author: Books, Campbell
Publication Date: 16th April 2020
Imprint: Campbell Books
Cover: Other
Pages: 8 unnumbered
Language: English
Readership: Children - juvenile / Code: J
Category: Board Books
Subjects: Early learning: numbers & counting, Educational: Geography, Educational: Sciences, general science, Natural history (Children?s/Teenage), Novelty, toy & die-cut books, Pop-up & lift-the-flap books, Science & technology: general interest (Children's / Teenage), Social issues: environment & green issues (Children's / Teenage)
What better way to celebrate Earth Day than with First Facts and Flaps: Planet Earth?
This lift-the-flap book is jam-packed with fun information, incorporating STEM (Science, Technology, Engineering and Maths) topics. With over thirty flaps, a wheel and a pull-out ending, children will love learning in a hands-on, playful way.
Find out what is inside the Earth, where rainbows come from and how to help look after the planet in this brilliant book. Pairing bold, colourful scenes from illustrator Naray Yoon with rhyming text and a page of informative fun facts, this is the perfect novelty book for children just starting to find out more about the world around them.
Discover more of the First Facts and Flaps series: Giant Dinosaurs, Amazing Animals, Brilliant Body, Super Space and Mighty Machines.
In stock