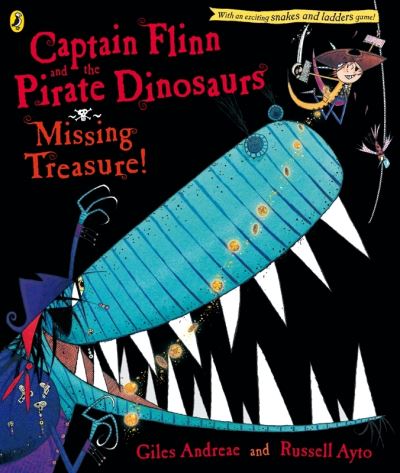 Missing Treasure!
£6.99
With stolen treasure to find and pirates to fight, this second Captain Flinn story is the perfect swashbuckling adventure.
Giles Andreae and Russell Ayto's super-fun Captain Flinn and the Pirate Dinosaurs: Missing Treasure!
When Flinn first met the Pirate Dinosaurs, he thought that he had taught them a lesson. But the real lesson is this – never trust a pirate, but never ever trust a pirate dinosaur. This time, Flinn is hot on the trail of some stolen treasure and he knows exactly who's to blame. With the help of his friends and Captain Gurgleguts, fearless Flinn tracks the rotten crew to the Lost Island. So far, so good, but Flinn and his pals hadn't reckoned on the dinosaur's secret weapon – the Giganotosaurus, T-Rex's cousin and the biggest dino the world has ever known! Will our hero be able to sail out of trouble this time? And what about all that stolen treasure? Luckily, every baddie has a weak spot and it's not long before the swashbuckling Flinn fights his way to victory!
Giles Andreae is an award-winning children's author and has written both fiction titles and best-selling picture books. His picture book, The Lion Who Wanted to Dance, won The Federation of Children's Book Award in the best picture book category in 1998. However, he is probably most famous as the creator of the phenomenally successful Purple Ronnie, Britain's favourite stickman. Giles lives in Notting Hill with his wife and three young children.
Russell has illustrated books by prolific children's authors such as Ian Whybrow and Cressida Cowell. The Witch's Children was shortlisted for the Greenaway last year and this year The Witch's Children and the Queen is on the Smarties shortlist. Russell lives in Penzance, Cornwall.
Don't miss the other Captain Flinn picture books – they're all rip-roaring fun!
Captain Flinn and the Pirate Dinosaurs; Captain Flinn and the Pirate Dinosaurs: Missing Treasure!; Captain Flinn and the Pirate Dinosaurs: Smugglers Bay!; Captain Flinn and the Pirate Dinosaurs: The Magic Cutlass
And Giles Andreae's brilliant book with illustrator Korky Paul: Sir Scallywag and the Golden Underpants
In stock