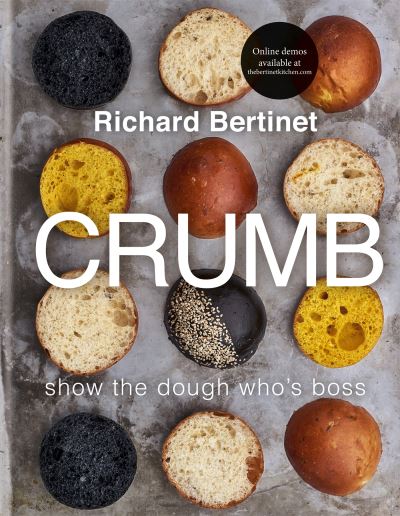 Crumb
£12.99
Bread can be open and airy or compact and dense – it is all about the 'crumb' which characterises particular styles of loaf. Richard Bertinet shares his hallmark straightforward approach to making bread through every step of the process, including the various techniques of fermenting, mixing, kneading and baking.
Finalist for the Guild of Food Writers Specialist or Single Subject Cookbook Award 2020
'If you only have one book about how to make bread, this should really be it.' Nathan Outlaw

'All it takes to make bread is flour, water and salt. To make great bread, add a little Bertinet.' Pierre Koffmann
'Richard never ceases to amaze me with his writing and effortless skills as a baker… whenever I am with him for a coffee, a bite to eat or teaching with him, I always come away with new knowledge… a bread genius.' Angela Hartnett
'The subtitle of this book is "show the dough who's boss" and, frankly, that puts it above most other baking titles straight away. Bertinet is a bread guru (this is his sixth book) and this is so calm and instructive, you'll be knocking out brilliant baguettes in no time.' Waitrose
Renowned baker Richard Bertinet brings bread right up to date with his hallmark straightforward approach to achieving the perfect crumb. Richard shares his expertise through every step of the baking process, including the different techniques of fermenting, mixing and working – never 'kneading' – the dough.
Richard shows you how to make everything from classic and rustic breads to sourdough using different flours and ferments. Learn how to bake a range of delicious sweet and savoury recipes from Cornbread with Manchego Cheese & Chorizo, Saffron & Seaweed Buns and Green Pea Flatbreads to Chocolate, Pistachio & Orange Loaf and Cinnamon Knots. There are also options for gluten-free breads and the best bakes to improve your gut-health by experimenting with different types of flour. Finally, Richard shares ideas for cooking with bread for delicious tartines or
mouthwatering Brioche Ice Cream.
With stunning step-by-step photography, simple advice and helpful techniques throughout, Crumb will inspire and fill you, whatever your experience, with the confidence to 'show the dough who's boss'.
* Online demos available at thebertinetkitchen.com *
In stock