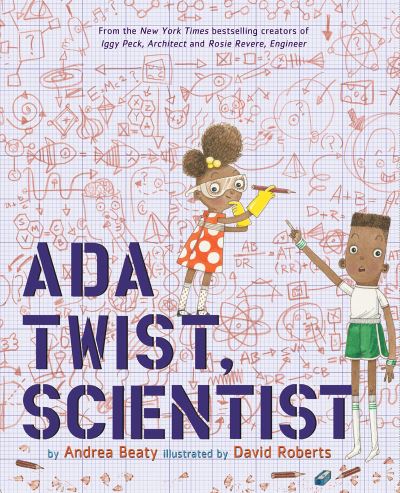 Ada Twist, Scientist
£12.99
Iggy Peck and Rosie Revere have earned their places among the most beloved children's characters, and they have inspired countless kids and adults to follow their dreams and passions. Now in her own charming and witty picture book, determined Ada Twist, with her boundless curiosity for science and love of the question 'why?', is destined to join these two favourites.
A #1 New York Times Bestseller
A Wall Street Journal Bestseller
A USA Today Bestseller
Inspired by real-life makers Ada Lovelace and Marie Curie, this beloved #1 bestseller champions STEM, girl power and women scientists in a rollicking celebration of curiosity, the power perseverance, and the importance of asking "Why?"  
 
Don't miss Ada's further adventures-with her friends Iggy Peck and Rosie Revere-in the instant New York Times bestseller Rosie Revere and the Raucous Riveters, the first all-new chapter book starring The Questioneers!
Ada Twist's head is full of questions. Like her classmates Iggy and Rosie-stars of their own New York Times bestselling picture books Iggy Peck, Architect and Rosie Revere, Engineer-Ada has always been endlessly curious. Even when her fact-finding missions and elaborate scientific experiments don't go as planned, Ada learns the value of thinking her way through problems and continuing to stay curious.
 
Collect them all! Add these other STEM favorites from #1 New York Times bestselling team Andrea Beaty and David Roberts to your family library today!
 
Rosie Revere, Engineer
Iggy Peck, Architect
Rosie Revere and the Raucous Riveters
Ada Twist and the Perilous Pants
Ada Twist's Big Project Book for Stellar Scientists
Iggy Peck's Big Project Book for Amazing Architects
Rosie Revere's Big Project Book for Bold Engineers
Questioneers Family Calendar
In stock